In June 2019 the Bright Kids Evesham Nursery was acquired from Avon Nursery, who have been welcoming children and parents through their doors since 2011. This current location in Davies House was refurbished during 2021. We are proud to say that we received an Outstanding Ofsted rating in July 2022 at our first inspection.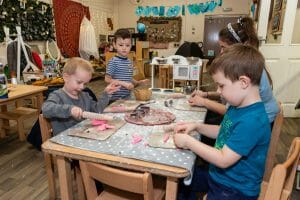 Based in Evesham, within Wychavon district, in the heart of Worcestershire. We are located almost equidistant between Worcester, Cheltenham and Stratford-upon-Avon. Our location makes us ideally placed to meet the needs of the surrounding areas. We offer daily indoor as well as outdoor play experiences to support children's learning and development from birth to five years old.
Our facilities at the Evesham nursery include dedicated outside play spaces for under and over 2's. We are looking forward to developing these further in line with our Curiosity ethos, as we have in our other settings. Indoors we have three individual areas, for babies, toddlers and pre-school. All designed to nurture and grow each individual child through developing their learning using their interests as our starting points.
The Evesham Nursery offers you as a busy parent:
Flexible ongoing childcare 51 weeks of the year from 7.30am until 6pm – we also offer flexible hours for shift workers and teachers
Wraparound Care for pre-school children is also available
Peace of mind knowing your child is in a quality setting being looked after by qualified staff
A range of practical clothing & accessories
Nutritional hot lunches served from 5* rated kitchens
Our car park allows for the safe drop-off as well as collection of your child
The Evesham Nursery is run by qualified, experienced staff who provide quality childcare and pre-school education all year round. We can also flexible part-time hours can be arranged where required.
Your child will receive age appropriate childcare in small groups:
Find out about 2 year funded places and 3 & 4 year funded education.
We have now undertaken our first Ofsted Inspection, which took place in July 2022 once Ofsted were inspecting fully once again.
At Evesham Nursery the overall the quality of the provision is OUTSTANDING.

Children receive care and education of the very highest quality. Staff make every child feel valued, safe and welcome. This results in an extremely happy and positive atmosphere where children thrive.

The manager and deputy manager lead the provision with vision, enthusiasm and expertise. Their absolute commitment to supporting each member of staff to be the best they can be has been the driving force in establishing provision of such a high quality.

Staff plan with the same meticulous detail for children's care needs as they do for their learning needs. For example, they follow sleep routines from home for babies and ensure each room feels homely and very familiar for children. This, alongside the excellent care and support of the nurturing staff, means that children transition through the nursery smoothly and extremely happily.
Visits
Visits are welcome at any time except during our busy lunchtime period of 12:00 – 2:00 pm. During this time they would need to be by appointment only.
We have waiting lists for many age groups so booking early is always advantageous.
To arrange a visit please call our Manager Charlie or her Deputy Miki on 01386 422414.