Welcome to Matchborough out of school club based at Matchborough First School Academy in Redditch. We are delighted with our new partnership started in January 2014 in order to provide our flexible, high quality care to even more of our local Redditch children from Reception throughout the school.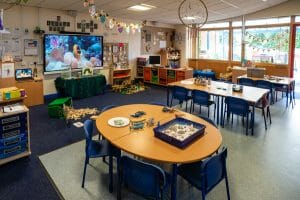 During term time our popular Breakfast Club opens at 8.00am. After providing a healthy breakfast, we escort the children to their classrooms in time for school. After school we open between 3.30pm until 6pm. Children are collected from their classrooms and can then relax and unwind in our secure, yet stimulating environment. A healthy snack tea is provided and children can play with friends or start their homework if parents wish.
At Matchborough we offer a wide range of fun play activities and have access to many of the school's facilities including the large hall and spacious playground. We use the Playwork Principles to deliver our 'learning through play' philosophy. Matchborough out of school club also embraces the Play Objectives which help our staff provide an interesting, challenging and suitable play environment for children.
We offer a Holiday Club Monday to Friday from 8am to 6pm during school holidays at our Crabbs Cross and also at our Studley settings. Bookings can be made online. Our out of school club closes for the usual Bank Holidays as well as over the Christmas School Closure Period.
Matchborough Out of School Club
We are Ofsted registered and our latest inspection took place in January 2022
Oveall the quality of provision is MET

Staff are extremely passionate about providing children with a welcoming, safe and inclusive club, in which they can relax and have fun at the end of a long day at school. The atmosphere of the club is positive and happy. Staff build strong relationships with children, giving them plenty of smiles, praise, and encouragement. Staff readily join in with children's play and children respond well to this. This helps children to feel emotionally secure and promotes their sense of belonging within the club.
To arrange a visit please call us on 01527 452430 or Contact us.
For more information see our FAQs.
Studley | Alcester | Sambourne | Astwood Bank | Great Alne | Wootton Wawen | Henley-In-Arden | Claverdon | Coughton | Bidford-Upon-Avon | Wilmcote | Mappleborough Green | Cookhill | Oakenshaw | Hunt End | Warwickshire | Redditch | Matchborough