Our Bell Green Nursery based in Coventry, is at the heart of the community. Parents have a short distance to walk from anywhere in the community to access our quality childcare. We have good links with our local school, which is just 5 minutes from the setting.
We are located just off the M6 Junction 3, just a short drive from The Coventry Building Society. Our Bell Green Nursery offers indoor and outdoor play on a daily basis, providing the children with essential play opportunities to learn from. We share our site with a Children's Centre, where parents can get expert support and advice from a whole range of professionals – from Midwives, Health Visitors, Early Help, Police Community Support Officers and Social Workers.
Our setting has well equipped rooms that cater for Babies, 2-3's and 3-5's. The rooms can be divided with a sliding door, which is opened to extend the extensive learning environment to all the children.
Our outdoor area has a variety of experiences in place for the children with each room having access to their own individual areas as well as a large shared area that is used for den making or using the large outdoor slide. The nursery is built on the edge of the park, which is somewhere we often take our children to enhance their learning.

We will be working towards achieving Millies Mark, the industry standard for First Aid competence at our Bell Green nursery:
The Bell Green Nursery offers you as a busy parent:
Flexible ongoing childcare, currently for 38 weeks of the year from 7.30am until 4pm
Peace of mind knowing your child is in a quality setting being looked after by qualified staff
A range of practical clothing & accessories
Nutritional hot lunches served from 5* rated kitchens
Our car park at the front of the building allows for the safe drop-off and collection of your child
Our Bell Green nursery offers funded places for children aged 2, 3 and 4 years old. From the age of 2 years, eligible families can received up to 15 hours of funding every week. Once children reach 3 years then they all become eligible to receive 15 hours of nursery education funding and eligible working families can access up to 30 hours of funded education.
The Bell Green Nursery is run by qualified, experienced staff who provide quality childcare and pre-school education from 7:30am – 4:00pm. Also flexible part-time hours can be arranged where required.
Our indoor spaces provide for your children's individual learning needs and are divided into age ranges with activities planned around their age and stage of development,
Your child will receive age appropriate childcare in small groups:
Find out about 2 year funded places and 3 & 4 yr funded education.
Welcome from Emma…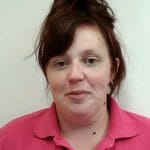 Hello and welcome to Bright Kids Nursery Bell Green. I am Emma Holding the Manager here at Bell Green Nursery.
I have been working here for over 5 years now… more
We will be re-registering with Ofsted as a new registration and will have up to 30 months for our first inspection. The nursery was Ofsted registered under the previous owner and had an inspection in 2020 which said:
Overall the quality of the provision is GOOD.

Children enjoy their time at this welcoming and inclusive nursery. Staff have established warm and affectionate bonds with children, which helps children to feel emotionally safe and
secure. Staff know each child's individual character and personality well.
Staff use their good teaching skills to build on what children already know and can do. They encourage children's independence and self-care skills well.
Visits are welcome at any time except during our busy lunchtime period of 12:00 – 2:00pm when they would need to be by appointment only.
We have waiting lists for many age groups so booking early is always advantageous.
To arrange a visit please call our Manager Emma on 02476 666589
For more information see our FAQs, click here to contact us or Enquire Online.
Bell Green | Aldermans Green | Hall Green | Potters Green | Walsgrave| Longford | Great Heath | Foleshill | Edgwick | Barras Heath | Coventry