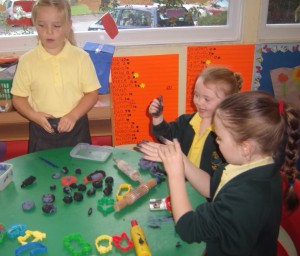 Our Out of School Care offers your children a safe and secure environment in which they can explore and play with their friends in a relaxed atmosphere. We understand that Out of School Childcare with a good play environment can enhance children's learning at school and our qualified Playworkers work with your children and schools to support this.
The Children's Play Council (1998) say:
"Play is an essential part of children's life and vital to their development… It is essential for physical, emotional and spiritual growth, for intellectual and educational development, and for acquiring social and behavioural skills… It may be boisterous and energetic or quiet and contemplative, light-hearted or very serious."
Out of School Childcare
At Bright Kids we use the Playwork Principles as our basis for organising and delivering our learning through play philosophy. These principles describe what is unique about play and playwork.
We also embrace the Play Objectives and these principles and objectives guide our Playworkers to provide an interesting, challenging and suitable play environment for children of all ages.
Staff, therefore, ensure our clubs are places where children can express themselves through play in a way that suits them. We offer a range of activities through our 'Play Menu' and children can choose from this on a daily basis. We also consult with all children over the choice of play equipment and they help us make our clubs a happy place to be.
Out of School Care
Bright Kids offer Before School Breakfast Clubs from 7:30 am where children can have a healthy breakfast followed by free play before being dropped off safely at their school.
Our After School Clubs provide Out of School Childcare when the school day finishes. Children are collected from their school and can then relax and unwind back at the Clubhouse. A snack tea is available to everyone and children can play with friends or start their homework if parents wish. We have an extensive range of play equipment including computers, board games and den-making materials. Our large outside spaces with climbing areas and football areas are freely available. We find that many of our children love to be outdoors as much as possible.
We offer Holiday Clubs at three of our settings and these are all booked separately from our Breakfast & After School Clubs.
Bright Kids have 5 Out of School Clubs serving many local schools. Click below for your nearest one:
Crabbs Cross Before & After School Club
Matchborough Before & After School Club
Studley St Mary's Before & After School Club
Wigwam Before & After School Club