Welcome to Wigwam out of school childcare club based at Wychall Primary School in Northfield, Birmingham. We are proud of the flexible, high quality and Outstanding care we offer Northfield children between the ages of 4 to 12 years old (we also have some places available for rising 4's during school holidays). Wigwam has an excellent working relationship with the school and the club provides consistency of care for children. We use the same ethos as the school, that also supports children's transitions as they progress through the school.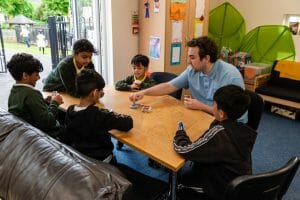 During term time our popular Breakfast Club opens at 7.30am. After providing a healthy breakfast, we escort the children to their classrooms in time for school. After school we open between 3.15pm and 6pm.
Children are collected from their classrooms and can then relax and unwind in a secure, yet stimulating environment. A healthy snack tea is provided and children can play with friends or start their homework if parents wish.
At Wigwam Out of School Club
We offer a wide range of fun play activities and have access to many of the school's facilities. These include the large hall and spacious playground. Wigwam out of school club use the Playwork Principles to deliver our 'learning through play' philosophy. We also embrace the Play Objectives which help our staff provide an interesting, challenging and suitable play environment for children.
Our Holiday Club opens Monday to Friday from 7.30am to 6pm during school holidays. We close for the usual Bank Holidays and over the Christmas School Closure Period.
We are Ofsted registered and fully inspected, our latest inspection report (April 2022) said…
Overall the quality of the provision is MET.

Children immerse themselves in their imaginary play and thoroughly enjoy using the rich open-ended resources. For example, children use the various antique ceramic items, glassware, tins and jewellery boxes while they pretend to make food in their role-play café. Staff indulge their ideas and children involve them in their play. Children have the freedom to choose what they would like to do. For example, some children are busy completing puzzles and others use a wide range of writing materials and stencils to make their creations. Children thoroughly enjoy spending their time outdoors while they play ball games and make their creations with chalk on the ground. A group of children delight in using the large parachute
while they learn about the effects of the wind on the parachute.
To arrange a visit please call our Club Co-ordinator, Lauren, on 07932 086311 or Contact us.
For more information see our FAQs .
Birmingham | Northfield | Bournville | Stirchley | Cotteridge | Longbridge | Kings Norton | Kings Heath | West Heath | Turves Green | Rednal | Shenley Fields | Hopwood | Lea End | Alvechurch