Hello and welcome to Bright Kids Nursery Northfield. I am Kerrie Mccaffery the Deputy Nursery Manager here.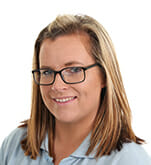 I started my career at Bright Kids Nursery Northfield as a student in June 2005. In 2006 when I qualified as Level 3 in childcare I was employed as club staff and Nursery Nurse. My career progressed to Room Leader and then to Senior Nursery Nurse.
Becoming Deputy Manager in 2014, I fully enjoy my role, and have achieved many childcare related qualifications.
I love being a mom to my two children and enjoy working with children and their families, supporting them and watching their children grow and develop.
As a long-standing member of the Bright Kids team I am very proud of what I and also what we have achieved here at Bright Kids Northfield.
For more information about Northfield Nursery click here. Call direct on 0121 475 4788.