Hello and welcome to Bright Kids Nursery Northfield. I am Janette Moran the Nursery Manager here at the Northfield Nursery.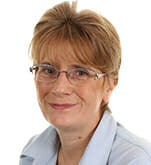 I began my career in 1992 when I became a parent volunteer in a nursery school. I've progressed to gaining my qualifications in childcare as well as education starting in 1996. In October 2013 I gained my BA Hons and in addition in February 2014 I qualified as an Early Years Teacher Status. I have collectively worked in both childcare and education for 26 years as well as raising my own four children. I've currently have thirteen grandchildren.
I immensely enjoy working with children and families and feel I have a lot of experience and knowledge to share. I'm really enjoying my time here at the Bright Kids Nursery Northfield where I can work alongside my team to ensure children in our care have the best possible childcare and education in a play based curriculum to support the children's progression into school and build on their life skills.
The bright sunny rooms with stimulating activities encourage our children to be independent, critical thinkers, creative and challenge their skills and development. I am proud to be part of the Bright Kids Team.
For more information about Northfield Nursery click here. Call direct on 0121 475 4788.